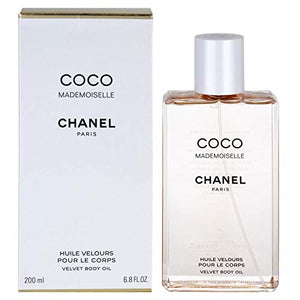 Chanel's Coco Mademoiselle The Body Oil is a luxurious spray body oil with a non-greasy texture. Its velvety composition has the fresh and modern notes of the signature Coco Mademoiselle fragrance and will leave the skin nourished, silky, and delicately scented.
Long-lasting hydration
Non-greasy finish
Spray-on oil
زيت الجسم من شانيل كوكو مادموزيل 
زيت جسم مخملي 
يترك البشرة ناعمة ومليئة برقة مع العطر الشرقي الحديث والعصري. 
يغلف نسيج الزيت الجاف متجدد الهواء الجسم في حجاب حريمي وحريري .
حجم العبوة 200مل .